We Have Houses, Townhouses, and apartments for sale!
Evanston and Creekside Calgary
Evanston is a large community in Calgary's NW, from Stoney Trail to 144th ave, 14 Street in the east, and the ridge in the west. You will find many options for housing in Evanston from condo and starter homes, to move up homes with spectacular views on the ridge. With two schools, Our Lady Of Grace, and Kethith D Taylor, a third school in in the works. McDonald and Partners are happy to support local events like, the Evanston annual easter egg hunt, Evanston stampede lunch, the annual pumkin give away, and many more events.
There are two regional shopping districts in Evanston, Creekside Shopping Centre, and Symons Valley Parkway at Evanston Drive NW. These shopping districts offer plenty of services, restraunts, and grocery stores.
Evanston Calgary homes for sale. Search houses, and condos in Evanston
Courtesy of Pittner Trenton of LEGACY REAL ESTATE SERVICES
$998,000
MLS® System #: C4285564
Courtesy of Havre Justin, Lee Nickel Heather of RE/MAX FIRST
$825,000
MLS® System #: C4296670
Courtesy of L Gordon Geoff of CIR REALTY
$800,000
MLS® System #: C4302651
Courtesy of A McKelvie Kelly of ROYAL LEPAGE BENCHMARK
$699,900
MLS® System #: C4301194
Courtesy of Chen Cathy, Chen Jim of CIR REALTY
$665,000
MLS® System #: C4302802
Courtesy of R Forrest Tammy, Nackoney-Skauge Shayna of RE/MAX FIRST
$609,900
MLS® System #: C4303499
Courtesy of Ferguson Erin of CENTURY 21 BAMBER REALTY LTD.
$599,900
MLS® System #: C4305802
Courtesy of Niefer Kevin, Morrow Wesley of CIR REALTY
$596,500
MLS® System #: C4293070
Courtesy of Song YuLi of HOMECARE REALTY LTD.
$584,900
MLS® System #: C4297664
Courtesy of C Stewart Gordon of RE/MAX REAL ESTATE (MOUNTAIN VIEW)
$580,000
MLS® System #: C4266737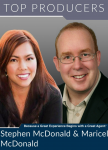 Contact Stephen & Maricel Mc... -
The data included in this display is deemed to be reliable, but is not guaranteed to be accurate by the Calgary Real Estate Board.
Creekside is the oldest part of Evanston, located south of Symons Valley Parkway, and east of Symons Valley RD. Kennet D Taylor school is located in Creekside, as well as the Creekside shopping district. Houses in this area where primarily built from 2003-2007. Evansborough is located in the north west corner of Evanston, ans is bordered by the Ridge on the west side, and 144 AVE to the north. Evansborough was built primarily from the years 2013-208. Evansridge, located on or close to the ridge, has many great views looking to the west was developed from 2011-2015 Evansfield is in the heart of Evanston is still being developed to this day, 2020. Our lady of Grace is the catholic school servicing many nieghbourhoods within Evanston. Evanspark was developed shortly after Creekside' Evansglen and Evanscrest located in the north east corner of Evanston and close to shopping on Symons Valley Parkway, have newer homes and condos avialble.