Calgary Foreclosures listings. 200k - 500k properties. Bank owned properties, judicial sales, compliments of Stephen McDonald CIR Realty.
Data Last Updated June 20, 2019, 5:39 am
Country Residential: 6 - Commercial: 1 - Condo: 36 - Residential: 52

Courtesy of P Mychajliv Matthew, Sharek Adam of CIR REALTY
$303,000
MLS® System #: C4238458
Cimarron Grove
Courtesy of Cavin Ray, J Cowling Richard of COLDWELL BANKER VISION REALTY
$305,000
MLS® System #: C4254097
Courtesy of Miller Lori of CIR REALTY
$309,800
MLS® System #: C4244504
Courtesy of MacDougall Bill of OPTIMUM REALTY GROUP
$310,000
MLS® System #: C4249001
Courtesy of Peters Dan, L Peters Chez of RE/MAX ROCKY VIEW REAL ESTATE
$314,500
MLS® System #: C4245310
Courtesy of Onufrechuk Dave of RE/MAX LANDAN REAL ESTATE
$318,000
MLS® System #: C4247405
Courtesy of Newton Jamie of RE/MAX FIRST
$319,900
MLS® System #: C4247495
Courtesy of P Brown David, Brown Macaulay of THE REAL ESTATE COMPANY
$319,900
MLS® System #: C4254398
Courtesy of Foat KaraLee of Century 21 PowerRealty.ca
$324,800
MLS® System #: C4241360
Courtesy of Chahal Raman, Dhillon Happe of RE/MAX REAL ESTATE (MOUNTAIN VIEW)
$324,900
MLS® System #: C4248187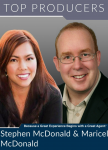 Contact Stephen & Maricel Mc... -
The data included in this display is deemed to be reliable, but is not guaranteed to be accurate by the Calgary Real Estate Board.
At CIR REALTY we do what we can to bring you the latest Foreclosures, but from time to time a property that is not a forclosure gets onto our list. We do not gaurantee any information on this page. Please contact Stephen McDonald for any questions or specific real estate details