Calgary condo foreclosures
Courtesy of Copp Travis of RE/MAX LANDAN REAL ESTATE
$1,200,000
MLS® System #: C4255732
Courtesy of Cilic Ivan of RE/MAX REAL ESTATE (MOUNTAIN VIEW)
$899,900
MLS® System #: C4262934
Courtesy of Samborski Tomasz of MAXWELL CAPITAL REALTY
$710,000
MLS® System #: C4255487
Courtesy of Marcia Zihove Toni, Dares Frances of RE/MAX HOUSE OF REAL ESTATE
$549,900
MLS® System #: C4265209
Downtown West End
Courtesy of Star Mel of RE/MAX REAL ESTATE (CENTRAL)
$399,900
MLS® System #: C4259380
South Calgary
Courtesy of Josefina Armstrong Adnerys of REAL ESTATE PROFESSIONALS INC.
$359,000
MLS® System #: C4261690
Courtesy of Hamilton Tarryn, Lamb Bart of RE/MAX REALTY PROFESSIONALS
$350,000
MLS® System #: C4266105
Courtesy of L Brown Dianne, Brown Michael of RE/MAX LANDAN REAL ESTATE
$345,000
MLS® System #: C4265867
Courtesy of Crooks Faye of MAXWELL CAPITAL REALTY
$339,000
MLS® System #: C4262677
Courtesy of Hussain Syed of CIR REALTY
$336,500
MLS® System #: C4254278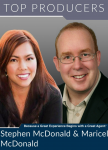 Contact Stephen & Maricel Mc... -
The data included in this display is deemed to be reliable, but is not guaranteed to be accurate by the Calgary Real Estate Board.
Condominiums and Foreclosures
Purchase will be as is
No condo documents will likely be available for review
The history of the property is likely unknown for defects.
If numerous units are in foreclosure in any given building it may indicate a possible red flag.