Calgary condo foreclosures
Courtesy of York Steve of CIR REALTY
$173,500
MLS® System #: C4257943
Courtesy of Hamilton Tarryn, Lamb Bart of RE/MAX REALTY PROFESSIONALS
$179,500
MLS® System #: C4261088
Courtesy of Samborski Tomasz of MAXWELL CAPITAL REALTY
$179,900
MLS® System #: C4249505
Courtesy of K Belcher Sarah of RE/MAX ROCKY VIEW REAL ESTATE
$179,900
MLS® System #: C4249531
Courtesy of Van De Walle Brad of RE/MAX REAL ESTATE (CENTRAL)
$180,000
MLS® System #: C4255269
Courtesy of Brierton Sherwin of ROYAL LEPAGE SOLUTIONS
$184,900
MLS® System #: C4262243
Courtesy of M Elhage Abe of CIR REALTY
$185,000
MLS® System #: C4264722
Courtesy of Mendham Ellyn, Westcott Tom of RE/MAX REALTY PROFESSIONALS
$189,990
MLS® System #: C4259769
Courtesy of Ahmed Imtiaz of URBAN-REALTY.ca
$194,900
MLS® System #: C4258012
Courtesy of L Throndson Steve, Glover Scott of REDLINE REAL ESTATE GROUP INC.
$199,900
MLS® System #: C4257772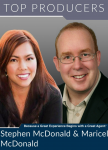 Contact Stephen & Maricel Mc... -
The data included in this display is deemed to be reliable, but is not guaranteed to be accurate by the Calgary Real Estate Board.
Condominiums and Foreclosures
Purchase will be as is
No condo documents will likely be available for review
The history of the property is likely unknown for defects.
If numerous units are in foreclosure in any given building it may indicate a possible red flag.