Mobile Homes For Sale | Calgary Real Estate | CIR Realty
Mobile Homes For Sale
Calgary and area offer many opportunties to enjoy the lifstyle of mobile home living. You can enjoy your mobile on your own land or acreage, or in a park setting. Land ownership with a mobile home gives you all the oprtunities you get with owning any other single family dwelling, including ease or mortgage. Park lease scenario includes a monthly fee, but the benifit is the up front cost maybe less expensive. The most common styles are single wide and double wide. The double wide offers a much wider layout. For specific requirements contact us at CIR REALTY.
Calgary mobile homes for sale, single wide, double wide. Get a mobile home with the land or park lease. We keep our listing record update for you, so you get what you desire.
Courtesy of Calvelo Rose of RE/MAX REAL ESTATE (CENTRAL)
$219,000
MLS® System #: C4297540
Courtesy of Moon Juli of REAL ESTATE PROFESSIONALS INC.
$204,000
MLS® System #: C4290519
Courtesy of Quintin Rena of RE/MAX ACA REALTY
$174,900
MLS® System #: C4295906
Courtesy of Poirier Justine of CIR REALTY
$165,000
MLS® System #: C4295690
Courtesy of J Jennings Theresa, Jennings Kelly of REVOLVE REALTY GROUP INC.
$159,900
MLS® System #: C4297310
Monterey Park
Courtesy of L Rose Carey of RE/MAX KEY
$155,000
MLS® System #: C4293678
Ranch Estates
Courtesy of A Desjardins Robert of ROYAL LEPAGE AZTEC REAL ESTATE
$149,900
MLS® System #: C4238244
Ranch Estates
Courtesy of Penner Henry of RE/MAX REAL ESTATE (MOUNTAIN VIEW)
$149,700
MLS® System #: C4295165
Courtesy of Lavoie Wally of GRAND REALTY
$143,900
MLS® System #: C4297515
Courtesy of Christiansen Glenn of WIDMER REALTY LTD.
$139,900
MLS® System #: C4233650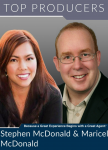 Contact Stephen & Maricel Mc... -
The data included in this display is deemed to be reliable, but is not guaranteed to be accurate by the Calgary Real Estate Board.
Where may you find a mobile home for sale in and around Calgary
Communties with land
Calgary - Erin Woods
Calgary - Thorncliff
Airdrie - Big Springs
Strathmore - Bretwood
Calgry Mobile Home Parks
Greenwood Village - Bowness
Watergrove - Arbour Lake
Chateau Estates - Abbeydale
Parkridge Estates - Monterey Park
Mountainview - Red Carpet
South Hill - Riverbend
Penbrook Heritage Estates - Red Carpet
Oasis - Forest Lawn