Northeast Calgary | Calgary Real Estate | CIR Realty
Northeast Calgary real estate, homes and condos for sale, CIR REALTY. We keep our listing record update for you, so you get what you desire.
Courtesy of Eddy Ken, Herring Glenn of RE/MAX REAL ESTATE (CENTRAL)
$90,000
MLS® System #: C4214327
Courtesy of Tumang Alexander, Belle Tumulak Thea of RE/MAX FIRST
$145,000
MLS® System #: C4219042
Courtesy of Jobbagy Ronald, D Stephen Mark of RE/MAX ROCKY VIEW REAL ESTATE
$148,900
MLS® System #: C4163984
Courtesy of Zeman Alois of HOPE STREET REAL ESTATE CORP.
$149,000
MLS® System #: C4218018
Mayland Heights
Courtesy of A Blanchette Richard of FIRST PLACE REALTY
$149,900
MLS® System #: C4219776
Courtesy of Perrotta Mike of DIAMOND REALTY & ASSOCIATES LTD.
$151,800
MLS® System #: C4210106
Courtesy of Hamilton Tarryn, Lamb Bart of RE/MAX REALTY PROFESSIONALS
$152,000
MLS® System #: C4217889
Courtesy of Thomas Ashby Christopher of REAL ESTATE PROFESSIONALS INC.
$154,000
MLS® System #: C4160910
Saddle Ridge
Courtesy of R Laprairie Michael, Stewart Alexandria of JAYMAN REALTY INC.
$154,100
MLS® System #: C4202937
Courtesy of Olegovich Julanov Aleksey of RE/MAX FIRST
$154,999
MLS® System #: C4219030
Saddle Ridge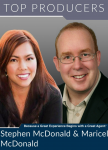 Contact Stephen McDonald -
403-680-0799
The data included in this display is deemed to be reliable, but is not guaranteed to be accurate by the Calgary Real Estate Board.