New Listings in Calgary | Calgary Real Estate | CIR Realty
Search in our new listings in Calgary, this listing is updated daily with the most recent listings. Get your home with Stephen Mcdonald and Associates
Data Last Updated June 4, 2020, 3:35 am
Country Residential: 17 - Rural Land: 8 - Condo: 93 - Residential: 211

Courtesy of Allwarden Terry of RE/MAX FIRST
$2,975,000
MLS® System #: C4300140
Courtesy of Skowron Chris of RE/MAX REAL ESTATE (MOUNTAIN VIEW)
$2,600,000
MLS® System #: C4300195
Courtesy of Shin Justin of CIR REALTY
$2,490,000
MLS® System #: C4300123
Stettler Town
Courtesy of Smith Rees, Griffith Kari of CIR REALTY
$1,999,900
MLS® System #: C4299802
Courtesy of D Evernden Mark of CENTURY 21 BAMBER REALTY LTD.
$1,988,000
MLS® System #: C4299301
Springbank Hill
Courtesy of Hassel Michael of EXP REALTY
$1,799,999
MLS® System #: C4285802
Courtesy of Semmens Joel of RE/MAX REAL ESTATE (CENTRAL)
$1,795,000
MLS® System #: C4299971
West Hillhurst
Courtesy of Neustaedter Jeff of RE/MAX FIRST
$1,699,900
MLS® System #: C4299406
Courtesy of Mendham Ellyn, Westcott Tom of RE/MAX REALTY PROFESSIONALS
$1,550,000
MLS® System #: C4299915
Courtesy of Havre Justin, Arnfinson Larry of RE/MAX FIRST
$1,500,000
MLS® System #: C4299781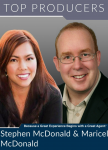 Contact Stephen & Maricel Mc... -
The data included in this display is deemed to be reliable, but is not guaranteed to be accurate by the Calgary Real Estate Board.
New Listings in Calgary
Find out the newest and hottest Calgary listings. The new listings in Calgary that offer the best deals. Typically older listings are not as good because the good new listings have sold. It is quite common for a good property to become sold within the first days or week once on the market. Older listings may have price, maintenace, location, clenliness issues. If you do want to be notified instantly when a property hits the market please contact Stephen McDonald and let us know. Please enjoy our list if new listings in Calgary and area. If something interest you let us know and we would be happy to arrange a viewing.