New Listings in Calgary | Calgary Real Estate | CIR Realty
Search in our new listings in Calgary, this listing is updated daily with the most recent listings. Get your home with Stephen Mcdonald and Associates
Data Last Updated April 25, 2019, 3:30 pm
Country Residential: 25 - Rural Land: 2 - Condo: 96 - Residential: 211

Courtesy of Durkovich Craig of REAL ESTATE PROFESSIONALS INC.
$89,000
MLS® System #: C4240848
Courtesy of Bergeron Richard, Bergeron Liz of RE/MAX REALTY PROFESSIONALS
$144,900
MLS® System #: C4241562
Courtesy of Adamo Crystal, Walker Laura of RE/MAX ROCKY VIEW REAL ESTATE
$155,000
MLS® System #: C4241599
Courtesy of Gebreyesus Sammy of REAL ESTATE PROFESSIONALS INC.
$165,000
MLS® System #: C4236769
Courtesy of Barnett Lawrence of RE/MAX LANDAN REAL ESTATE
$165,000
MLS® System #: C4241463
Canyon Meadows
Courtesy of A McKelvie Kelly, Easthope Ricky of ROYAL LEPAGE BENCHMARK
$167,500
MLS® System #: C4241642
Courtesy of Gregory Ongyerth Colin of RE/MAX REAL ESTATE (MOUNTAIN VIEW)
$179,900
MLS® System #: C4241595
Courtesy of Higgs Amanda of RENZO REAL ESTATE INC.
$185,000
MLS® System #: C4241534
Courtesy of Sumner Arthur of HOUSTON REALTY.ca
$188,900
MLS® System #: C4241723
Courtesy of Jansson Anni of RE/MAX HOUSE OF REAL ESTATE
$195,000
MLS® System #: C4241018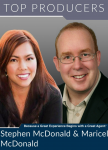 Contact Stephen McDonald -
403-680-0799
The data included in this display is deemed to be reliable, but is not guaranteed to be accurate by the Calgary Real Estate Board.
New Listings in Calgary
Find out the newest and hottest Calgary listings. The new listings in Calgary that offer the best deals. Typically older listings are not as good because the good new listings have sold. It is quite common for a good property to become sold within the first days or week once on the market. Older listings may have price, maintenace, location, clenliness issues. If you do want to be notified instantly when a property hits the market please contact Stephen McDonald and let us know. Please enjoy our list if new listings in Calgary and area. If something interest you let us know and we would be happy to arrange a viewing.