New Listings in Calgary | Calgary Real Estate | CIR Realty
Search in our new listings in Calgary, this listing is updated daily with the most recent listings. Get your home with Stephen Mcdonald and Associates
Data Last Updated January 17, 2020, 4:29 pm
Country Residential: 17 - Rural Land: 2 - Condo: 76 - Residential: 167

Courtesy of Williams Matt of RE/MAX REALTY PROFESSIONALS
$2,495,000
MLS® System #: C4281593
Courtesy of Stante Sano of RE/MAX REAL ESTATE (CENTRAL)
$2,300,000
MLS® System #: C4281950
Courtesy of Ulch Jacqueline, S Ashe Jim of RE/MAX FIRST
$2,000,000
MLS® System #: C4281435
Courtesy of Oliverio John of RE/MAX REAL ESTATE (CENTRAL)
$1,539,000
MLS® System #: C4281923
Courtesy of Neustaedter Jeff of RE/MAX FIRST
$1,499,999
MLS® System #: C4281943
Courtesy of C Lotoski Jordan of RE/MAX REALTY PROFESSIONALS
$1,495,000
MLS® System #: C4281812
Courtesy of B Murphy James of REAL ESTATE PROFESSIONALS INC.
$1,399,000
MLS® System #: C4281895
Courtesy of D Evernden Mark of ENGEL & VOLKERS CALGARY
$1,368,000
MLS® System #: C4281497
Courtesy of Risi Janis, Schlee Tony of STONEMERE REAL ESTATE SOLUTIONS
$1,350,000
MLS® System #: C4281708
Courtesy of Walter Sermeno Johnnie of RE/MAX REAL ESTATE (MOUNTAIN VIEW)
$1,349,000
MLS® System #: C4281764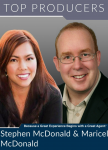 Contact Stephen & Maricel Mc... -
The data included in this display is deemed to be reliable, but is not guaranteed to be accurate by the Calgary Real Estate Board.
New Listings in Calgary
Find out the newest and hottest Calgary listings. The new listings in Calgary that offer the best deals. Typically older listings are not as good because the good new listings have sold. It is quite common for a good property to become sold within the first days or week once on the market. Older listings may have price, maintenace, location, clenliness issues. If you do want to be notified instantly when a property hits the market please contact Stephen McDonald and let us know. Please enjoy our list if new listings in Calgary and area. If something interest you let us know and we would be happy to arrange a viewing.