New Listings in Calgary | Calgary Real Estate | CIR Realty
Search in our new listings in Calgary, this listing is updated daily with the most recent listings. Get your home with Stephen Mcdonald and Associates
Data Last Updated August 18, 2019, 9:27 pm
Country Residential: 5 - Rural Land: 1 - Condo: 29 - Residential: 56

Courtesy of Moores Heather of RE/MAX PRIME
$53,500
MLS® System #: C4264147
Courtesy of B Bridgewater William of CIR REALTY
$82,700
MLS® System #: C4264057
Courtesy of Kennedy Sarah of REDLINE REAL ESTATE GROUP INC.
$119,000
MLS® System #: C4264059
Courtesy of A Thomson Joe, Vensel Andy of RE/MAX REAL ESTATE (CENTRAL)
$129,999
MLS® System #: C4249034
Courtesy of Havre Justin, Lee Nickel Heather of RE/MAX FIRST
$137,500
MLS® System #: C4263978
Courtesy of Hebert Carolynne of ROYAL LEPAGE SOLUTIONS
$175,000
MLS® System #: C4262719
Courtesy of Chughtai Haroon of FIRST PLACE REALTY
$199,000
MLS® System #: C4258796
Courtesy of J Patel Mital of CIR REALTY
$199,900
MLS® System #: C4263982
Courtesy of Salmon Karen of RE/MAX PRIME
$208,900
MLS® System #: C4264091
Sunrise Meadows
Courtesy of J Jones Timothy of RE/MAX PRIME
$219,900
MLS® System #: C4264005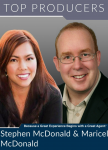 Contact Stephen & Maricel Mc... -
The data included in this display is deemed to be reliable, but is not guaranteed to be accurate by the Calgary Real Estate Board.
New Listings in Calgary
Find out the newest and hottest Calgary listings. The new listings in Calgary that offer the best deals. Typically older listings are not as good because the good new listings have sold. It is quite common for a good property to become sold within the first days or week once on the market. Older listings may have price, maintenace, location, clenliness issues. If you do want to be notified instantly when a property hits the market please contact Stephen McDonald and let us know. Please enjoy our list if new listings in Calgary and area. If something interest you let us know and we would be happy to arrange a viewing.